Californians may wear it on their sleeves, but just about everybody everywhere can agree: The Golden State is home to some of the most beautiful places in the entire country. From snow and forest to sea and desert, there's practically no landscape we don't have represented in our state. Whether it's Yosemite, Big Sur, Joshua Tree, or Santa Barbara, there's no denying that California is an unbelievably special place. You could spend 100 years Instagramming all its natural wonder, and you'd barely scratch the surface — but that doesn't mean we're not gonna help you try. Here are 29 of the most beautiful places in California, most of which you've probably never seen before.
Alamere Falls
Point Reyes
Oh this? It's just a waterfall. THAT FLOWS DIRECTLY INTO THE OCEAN. A rare "tidefall," it's found by following the Coast Trail from the Palomarin Trailhead on a 8.5-mile round-trip hike. Pro tip: Stop at Bass Lake along the way if you're into rope swings. [Editor's Note: You're into rope swings.]
Bowling Ball Beach
Point Arena
Named after the spherical sandstone creations, which look like bowling balls (and also, just regular balls), Bowling Ball Beach is located way the hell up Hwy 1. If the tide level is just right, this is one of the most SWTF (Seriously What The F*ck) things in California.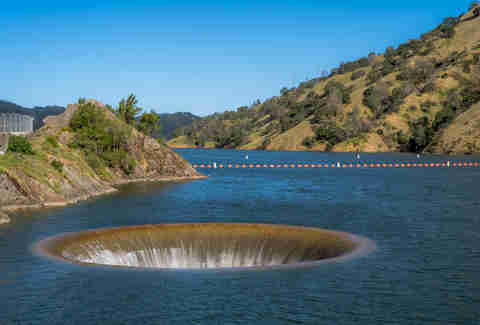 The Glory Hole
Lake Berryessa
The California drought has kinda ruined this one, but when the water levels are right and you're near the east side of the Monticello Dam at Lake Berryessa, this open bell-mouth spillway (basically what lets them release flows of dam water into Putah Creek) is one of the coolest things you'll ever stare into (from a very, VERY safe distance) in your life. Creepy bonus: The lake was the site of one of the Zodiac murders!
La Tour
Laguna Beach
Turns out, Orange County's only "lighthouse" (known as "Pirate Tower" to locals) was actually a 60ft structure built in 1926 to help California State Senator William E. Brown get from his home on the top of the cliff to the beach below (there's a metal staircase inside). Today, it's home to Westley and Princess Buttercup (or something).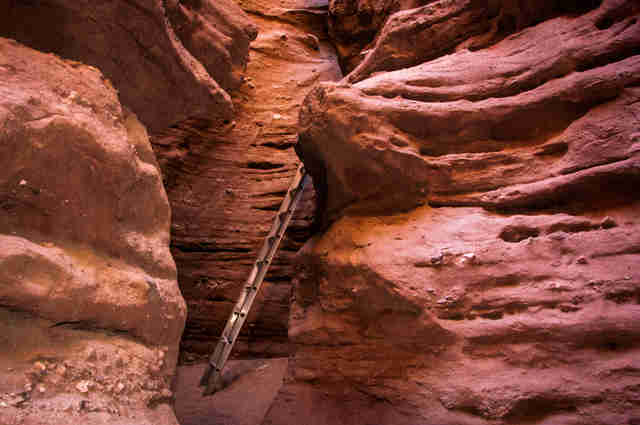 Painted Canyons
Mecca
Located about an hour southeast of Palm Springs, this is hands down one of the most unique California "hikes" you'll ever go on, largely because it's a LADDER hike (!) through a narrow and actually really refreshingly cold gorge formed years ago by the San Andreas Fault. The whole "Painted Canyons" name is thanks to the walls, which are washed with pinks, reds, grays, browns, and greens — especially when you first pull into the canyon. Bonus: A few years back, some wonderful person replaced the wood ladders with metal ones. (Thank God.)
Natural Bridges
Vallecito
Known to geology nerds as a "karst," the Natural Bridges were formed when the rushing waters of Coyote Creek eroded through a layer of soluble bedrock and created this Aladdin-caliber Cave of Wonders. Best part? If you really want to explore this thing (and you can), you're gonna need a bathing suit. Basically if you're going to California Gold Country, you'll want to also be going to here.
Pfeiffer Beach
Big Sur
McWay Falls (NorCal tidefall No. 2!!) gets a lot of the Big Sur attention — as it should, it's freaking ridiculous — as does Bixby Bridge (also great), but Pfeiffer Beach might actually be the gem-ier gem. Not only does it have THE INSANE ROCK FORMATION PICTURED ABOVE (get an Insta of the keyhole at sunset if you want to set a new likes record), but it also has purple sand. Yep. Purple. Sand.
Fern Canyon
Gold Bluffs Beach
Steven Spielberg chose this as the location for The Lost World: Jurassic Park because 1) holy crap look at it, 2) it's an international Biosphere Reserve, and 3) it's a narrow gorge carved out by Home Creek with walls hugged by seven types of ferns, some of which date back 325 million years. It's a short trail, so double back on it. Twice. OK fine, thrice.
The Seven Teacups
Johnsondale
One of the coolest natural wonders of the Sierras, the Seven Teacups has been described as one of the world's most spectacular canyoneering challenges. And that's the rub on this one — you need, like, ropes and stuff to climb it. But if you do (or find a friend who knows what the hell they're doing and can carry you up or something) you'll be rewarded on the way back down, which people have been known to take inflatable killer whales and alligators down (just, duh, make sure the water depth is OK before you kill yourself). This is a must-read if you're gonna actually try this thing. And you should. Because holy shit look at this thing. Just look at it.
Glass Beach
While years of dumping Fort Bragg garbage along the coastline in the '50s and '60s was mostly the worst thing ever, it did lead to to Glass Beach: a stretch of shore filled almost entirely with smooth sea glass. It's truly beautiful, but don't take any of it with you — because of souvenir hunters and the waves themselves (which are constantly grinding down the glass), the sea glass here is actually diminishing. Don't be that person. Bonus: North Coast Brewing is just across the street, so stop in for a beer or 10.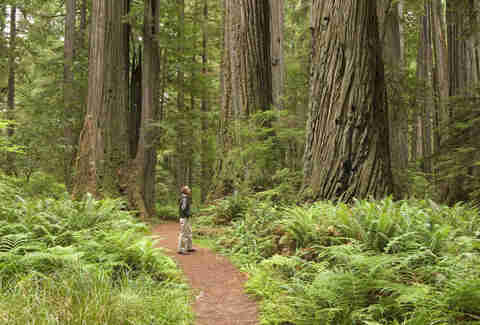 Enchanted Forest
Like any other Northern California forest, this slice of the Lost Coast is home to a ton of awe-inspiring redwoods. Unlike every other Northern California forest, though, the Enchanted Forest is also home to an insane number of candelabra trees (and, if the name is to be believed, a bunch of magical gnomes and talking squirrels). The Lost Coast is truly one of the brightest gems of California, and this forest right is truly one of the brightest gems of the Lost Coast.
Poppy Reserve
If you've heard somebody rave about Antelope Valley's poppy fields, you've probably wondered if they're really all they're cracked up to be. We're here to give you a resounding yes: this Wizard of Oz-esque poppy haven stretches literally as far as the eye can see, and it's hard to keep your jaw from dropping. Nature is nuts, and this poppy reserve really makes you feel incredibly small in the grand scheme of things.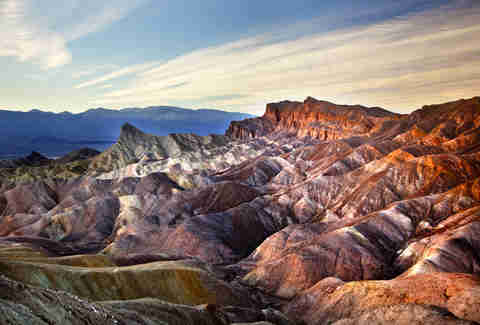 Zabriskie Point
Death Valley
Ninety-nine percent of Death Valley is super death-y. But 1% — this 1% — comes alive. Named after a VP of an old borax company who used 20-mule teams to transport borax (Wikipedia-five!), it's maybe the most beautiful-looking rock place in the entire state. Also it was featured prominently on U2's The Joshua Tree album cover. So there's that.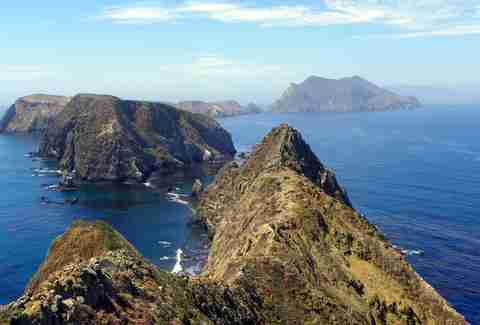 Inspiration Point
Anacapa Island
It might look like Hawaii, but it's actually a tree-less uninhabited island 2,400 miles away from there in the good old Golden State, and just 12 miles off the coast of Santa Barbara. After grabbing a boat over to Anacapa from Ventura or Oxnard Harbors, you can start the relatively easy 2-mile figure-eight loop hike that takes you past various sights (including the last permanent lighthouse built on the West Coast) and overlooks, but none as awe-inducing as Inspiration Point, where you'll get a view of a couple of islets and the heftier Santa Cruz Island off in the distance.
Hetch Hetchy Valley
Yosemite
You've probably already checked out many of Yosemite's heavy hitters, but you may well have skipped this out-of-the-way valley tucked away in the northwest corner of the park, a good hour-plus drive from the Yosemite Valley floor. It comes complete with multiple lakes, meadows, waterfalls, soaring peaks, a (somewhat controversial) reservoir, and plenty of excellent wildflower viewing in the spring. Best of all, thanks to its remote-ish location, hiking trails are often gloriously uncrowded.
Kelso Dunes
Mojave Desert
What happens when sand blows in for 25,000 years? It piles up until you've got 45 square miles of sand dunes that reach 700 feet tall and an area that sure does look like it would make a great backdrop for the next Star Wars movie (and, actually, scenes from the original were shot not all that far away). Just driving through is cool enough, but you can also take a marked 3-mile hike and do this trippy "singing sand" thing with your feet while you're at it.
Burney Falls
Burney
You don't have to worry about catching these falls on a good day as they pretty much never stop flowing thanks to the underground springs that feed into them from above. At 129 feet high and 250 feet wide, the whole thing is pretty massive, flowing 100 million gallons of water every day into Lake Britton. Bonus: The falls sit within pine-dotted McArthur-Burney Falls Memorial State Park, a solid spot for hiking, fishing, and camping.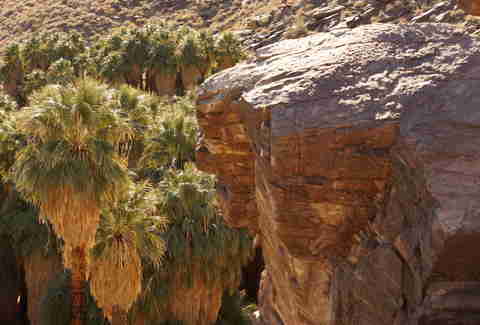 Indian Canyons
Palm Springs
If you're looking to actually see an oasis, this is the real-deal. A bubbling stream in the middle of a canyon preserve just a few miles from Downtown Palm Springs keeps this cluster of thousands of palm trees growing and green all year long, making it one of the world's largest fan palm oases. You'll have to pay nine bucks to get into the tribal-owned preserve, so spend the day hiking one or more of the multiple trails, passing pools, streams, waterfalls, and maybe even some bighorn sheep and tarantulas (for real, we've seen them) along the way.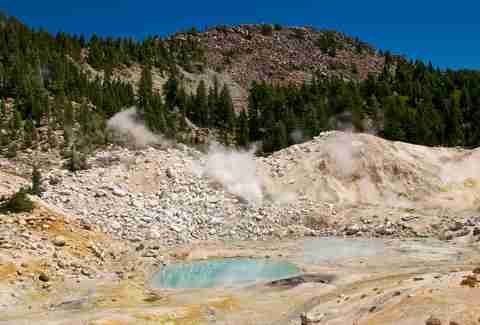 Bumpass Hell
It may not smell beautiful thanks to the sulfur, but as the largest geothermal area in the park, the scene is pretty impressive, with boiling mud pots, active steam vents, geysers, and color-stained soil and rocks. And if you're wondering about the awful moniker, the place was named after Kendall Vanhook Bumpass, a miner who, in the 1860s, slipped into one of the mud pots and had to have his leg amputated as a result of the burns. So, y'know, stay on the trails.
Note: Bumpass Hell is currently closed, but should be reopening very soon.
Spring Mountain
Napa Valley
Once you take the 5-mile drive from the valley floor below, you'll be 2,600 feet up, on the eastern side of the Maycamas mountain range, where the views of the mountains, rolling hills treetops and vineyards in the distance are pretty insane. And — bonus — you'll get to taste wine afterward as the Spring Mountain District sits right on the border of Napa and Sonoma Counties and is its own appellation, home to a few dozen (really good) wineries.
Abalone Cove Shoreline Park
Rancho Palos Verdes
This secluded cove on the Palos Verdes coastline feels a gazillion miles away from Los Angeles in part because it's about 30 miles from Downtown, which actually equals a gazillion in LA freeway math. It encompasses a couple rocky beaches, clear tide pools featuring the park's namesake, and even an actual cave (exciting!). You can traverse the area via multiple trails to the top of the bluffs (look out for Frank Lloyd Wright-designed Wayfarers Chapel), and back down to the pools. Note that part of one pool is currently closed thanks to unstable cliffs (nothing like ruining a perfectly good day with a cliff falling on you), but there are others to check out, so bring those funky-looking water shoes if you have 'em.
Cap Rock
Joshua Tree
There's amazing scenery and those funky Joshua Trees everywhere you turn in this 800,000 acre national park that blends two different deserts, but visitors often stay closer to the edges of the park. For this wonder, you'll want to head deep into the park to check out this groovy-looking rock formation with a boulder sitting on top of it (which at certain angles looks like it's defying gravity) against a backdrop of JTs. You'll get the most beautifulness for your buck in the early AM. It's also become a makeshift memorial to musician Gram Parsons, since his remains are buried there after a couple of his friends stole his body from the airport and incinerated it in the park. It's a long story…
Black Sand Beach
Yes, this beach on a pristine cove is adjacent to one of the country's biggest metropolises, but since access requires a decent trek down (and then an even more strenuous one back up), it manages to stay pretty desolate. The beach is actually made up of black sand (but you knew that), so it heats up nicely, providing a little warmth in the face of those blustery Northern California days. Which is maybe why you'll probably spot some nudists here and there… so, at least take your socks off.
Rainbow Falls
Mammoth Lakes
You're pretty much guaranteed to see a rainbow (but no promise of a unicorn) if you time it right at this 100-foot waterfall, thanks to all the mist the falls put out. Your best bet at getting some good rainbow pics is midday when the sun is high in the sky. The length of hike to get there varies and depends on where you park, but figure at least a 3-mile round-trip… and make sure to continue on to check out the lower falls too.
Hidden Beach
Klamath
Rugged and rocky bluffs covered in lush spruces? Check. Washed-up driftwood strewn about? Check. A giant rock jutting out of the ocean with a pine tree growing on it? Yep, that too. The thing is, this beach is not just hidden, but more or less completely off the radar of most visitors to Redwood National Park, where the secluded spot can be reached only via some coastal trail hikes with nary a redwood tree in sight.
Alta Peak Trail
Sequoia National Park
Though Sequoia often gets written off as the "diet Yosemite," it's a dangerous mistake to sleep on the bounty of natural wonder you can find there. The Alta Peak Trail is one of those showstoppers — if you can brave the nearly 14-mile trek (or, y'know, just drive the first half), you'll find yourself beyond rewarded when you reach the peak at almost 4,000 feet. Be careful on the fun (read: terrifying) little stairwell that will lead you to the top, but once you make it, relax and enjoy the truly breathtaking view.
Gustafson Family Vineyards
Sonoma County
It's no mystery that Sonoma County is one of California's biggest heavy-hitters when it comes to vineyards, but there are only so many rows of trellises you can look at before every vineyard in the area starts to blend together. At Gustafson Family Vineyards, however, this isn't a problem. At the highest point of elevation in the Dry Creek Valley AVA, Gustafson offers some truly eye-popping views — which, combined with the wine, makes it a total bucket-list destination. There's something about standing on top of a mountain, drinking delicious wine, eating delicious cheese, and looking down into the sun-soaked, grape-lined mountaintops of the valley that's undeniably special. It's distinctly Californian, and stunningly gorgeous.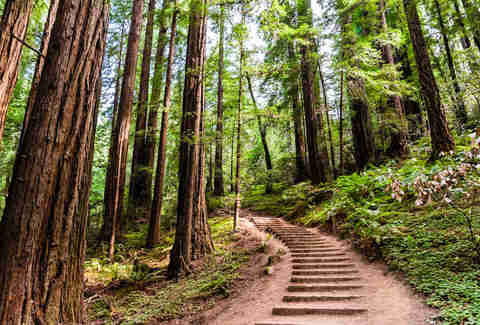 Muir Woods
Marin County
If somebody were to tell you to picture Northern California's classic beauty, the first thing to pop into your head would probably be a forest of redwood trees. You may not even realize it, but you're picturing Muir Woods. Named for John Muir, the area covers over 500 acres, nearly half of which are lined with California redwoods. The natural beauty strewn about in every direction is out-of-this-world impressive, and any trip along the (admittedly difficult) Dipsea Trail will have you involuntarily saying "woah" every two or three minutes.
Cr: thrillist